A Merry Iris Christmas
Celebrating Christmas with the poorest of the poor in Mozambique.
I love giving gifts. It is one of my favorite things to shower people with love and see their happy, smiling faces. God takes me all over the world to share His love, and the types of gifts I choose range from spa coupons and jewelry, to soap and new rooves for mud huts. My lovely missionary ladies are thrilled to receive mascara and perfume to feel beautiful as they pour their lives out, whereas my friends in the village would not even know what to do with mascara.
"We will go anywhere to carry His glory to the lost."
Recently, we visited one of my favorite places in the world, Londo village. This is a remote inlet we can only reach by boat. The villagers are extremely poor and isolated, but they are filled with joy and gratefulness for everything they do have. They paddle their small, wooden, hand-carved canoes for hours to get water for their families, without any grumbling.
We decided to go on a surprise journey to celebrate them and bring them piles of gifts. We worshipped, prayed and rejoiced as we rode our Iris Compassion boat to Londo, praising God that He gave us a way to reach the unreached in the most remote places. We will go anywhere to carry His glory to the lost. We used solar powered flashlights to navigate our rubber duck dingy to shore, getting soaking wet on the way as we all crammed in, crashing through the waves.
"What could possibly be better than children knowing our precious Savior?"
We brought chips and cookies—movie snacks for the children as they watched the Jesus film via a new projector that fits in a small backpack. Then we recruited a new teacher for our one-room school house—the only person in the village who could read and write well enough to teach others. We prayed for him, his assistant, and our top student, and gave them boxes of books and supplies. We handed out buckets, laundry soap, beaded necklaces and capulana skirt fabric. The community danced, praised and rejoiced. Of course Jesus Himself is the biggest gift we could ever give anyone, but we find that giving physical gifts also communicates Jesus' love in such a deep and powerful way.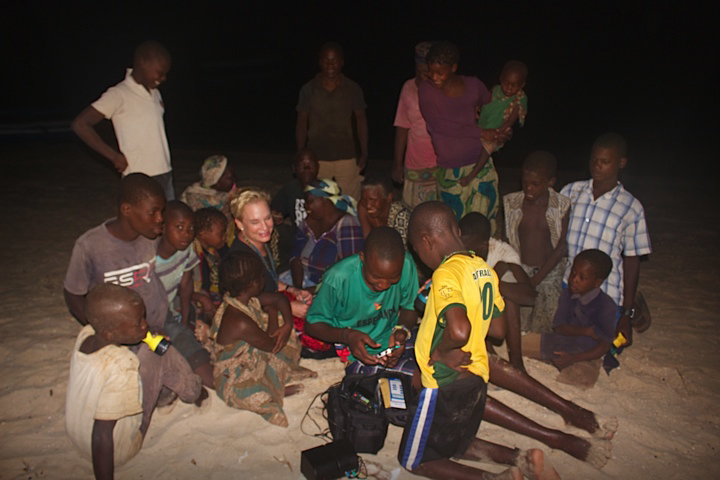 Because I love giving gifts so much, Christmas is one of my favorite times of year. We remember everything Jesus gives us and we freely give it all away for His glory all year, but especially at Christmas. In Pemba, I love to personally give each child in our center their presents with my team. We prepare clothing, toys, and practical things like soap and flip flops in giant parcels for each child. They shout with joy and feel so special when they open their gifts. I'm sure it is not that different from your Christmas, watching children light up and feel they are deeply loved in a family, and understand that Jesus cares about the desires of their hearts. What could possibly be better than children knowing our precious Savior?
We also do something a little different than your typical Christmas: we throw a massive party for all of the children within walking distance of our Center of Joy. Jesus said, "When you give a luncheon or dinner, do not invite your friends, your brothers or relatives, or your rich neighbors; if you do, they may invite you back and so you will be repaid. But when you give a banquet, invite the poor, the crippled, the lame, the blind, and you will be blessed. Although they cannot repay you, you will be repaid at the resurrection of the righteous." (Luke 14:12-14 NIV) We like to take this verse very literally. Everyday we provide breakfast or snack to nearly 3000 children who attend our school. They need nourishment to study well, and some of these little ones are so poor that they only eat one meal a day in their homes. We also have an after-school lunch program where any child can come hear the Gospel, sing with us, and eat a nutritious meal of beans and rice—hundreds come each day.
"We trust Jesus to literally multiply the food for the multitudes!"
Christmas is not a typical day around here though! Thousands of children show up at our center early in the morning with such anticipation to share a meal of chicken, rice, salad, soda, and sweets with us. Chicken is the number one favorite food among Mozambicans, so this is what we serve. Many of these children are from extremely poor families, so they only get to eat chicken at our center twice a year. We love to spoil these children and laugh with them as they enjoy such a treat. It takes all day to serve each little one, last year about 6000 came to the feast.
Our children's ministry teams perform songs, skits and dramas all day about God's love and the meaning of Christmas. We even have a nativity play where are our children gasp as shepherds hearing the good news, dance as angels, and one young girl rides our live horse to Bethlehem with a pillow under her dress. The squealing live goats also make things more interesting as they try to run about. All of the children come very close to see what's happening with excitement in their eyes as we represent the birth of our precious Lord Jesus.
The kitchen team stays up all night cooking as much chicken as they possibly can, and then we trust Jesus to literally multiply the food for the multitudes! He loves feasts and celebrations of who He is, so He is happy to make extra chicken for each little child to enjoy.
This year we are looking forward to several Christmas celebrations with all of our friends. We pray that as you celebrate Jesus this Christmas, you will be so filled with His love and joy that you can't help but remember the poor and give your life away for the ones God puts in front of you.